La tecnología de calentamiento/enfriamiento por placas se basa en la transferencia indirecta de calor a través de placas verticales huecas de acero inoxidable.
Los polvos pasan lentamente hacia abajo, entre las placas. El líquido de intercambio de calor corre por el interior de las placas. 
Aplicación
Alimentos, azúcar, sal, granos
Fertilizantes – Urea, Nitrato de Amonio
Químicos – Sulfato de amonio
Bicarbonato
Polímeros (Polvos o Pellets), PP, PE, PVC
Detergentes y Fosfatos (STPP, SAPP)
Minerales – Carbón, arena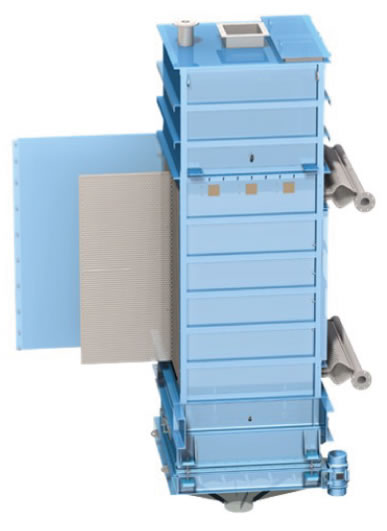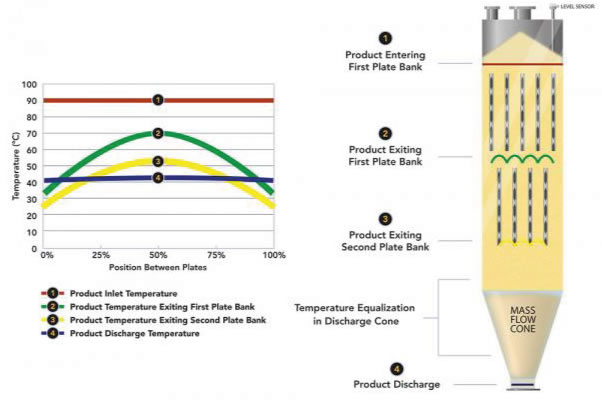 Para funcionamiento continuo, el sistema de control del nivel modula la velocidad de descarga a través del vibrador para mantener el nivel de producto en la tolva de entrada a medida que cambia la velocidad del flujo de entrada.
Para el enfriamiento, el intercambiador típicamente usa agua de un circuito de torre de enfriamiento o agua de enfriamiento de sistema cerrado.
Para aplicaciones de calentamiento, el medio puede ser agua caliente, vapor o aceite térmico.

The technology of heating / cooling by plates is based on the indirect transfer of heat through vertical plates hollow stainless steel.
The dusts pass slowly down between the plates. The fluid exchange of heat runs through, inside the plates.
Application
Food, sugar, salt, grains
Fertilizers - Urea Ammonium Nitrate
Chemicals - Ammonium Sulphate
Bicarbonate
Polymers (powders or pellets) PP, PE, PVC
Detergents and phosphates (STPP, SAPP)
Minerals - coal, sand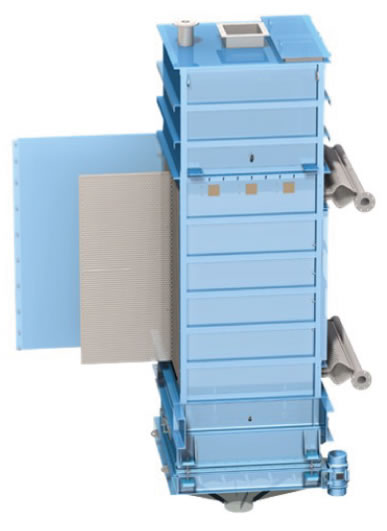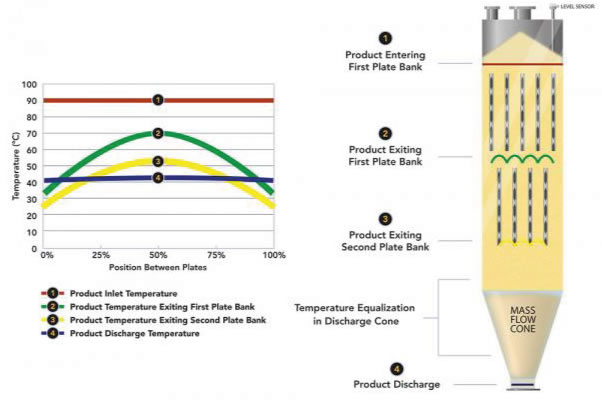 For continuous operation, the level control system modulates the download speed through the vibrator to maintain the level of product into the hopper of entry as you change the speed of the input stream.
For cooling, the intercooler typically use water in a circuit of cooling tower or water cooling of closed system.
For heating applications, the medium may be hot water, steam or thermal oil.